It's fun to think about the snow piled up on the water rides and little forest creatures finding a winter wonderland among the characters on Storybook Lane, but what really happens during the winter at Water Safari? Well, it's all about preparation for the next Summer season! The year-round staff pulls together to see what could make next season even more epic. The list of chores starts during the season and the project lists grow. When Fall comes, these lists are organized, tasks are delegated, and the work continues with the questions in mind: what can we do to make ____________ better? Fill in the blank according to the department's focus: dry rides, systems processes, training, routines, etc. Now that you're in the mindset, here's a glimpse at what Water Safari looks like in winter:
Preparing for the New Season
The hustle turns inward as each department defines which projects to tackle. Our Marketing Department focuses on creatively informing our guests of our offerings, changes, and when we open again. Imaginatively applying creative messages that will resonate with our guests, they prepare exciting, new campaigns for social media, TV, radio which takes much planning, coordinating, and creating. Preparing for the new season is seen in each department through various ways…
Preparing Appearance: Painting / Refurbishing / Renovations
Our Art and Maintenance Departments focus on refurbishing dry rides, painting and creating signs, touching up characters, and buildings. This process takes precision and expertise – talents both departments execute well.
The winter is when exciting new renovations and new releases happen! Last year, we have renovated bathrooms, built 75 new picnic tables, and are building 5 new cabanas. This year, we're working on three new state-of-the-art water slides! We'll try to share sneak peek photos on social media, be on the lookout…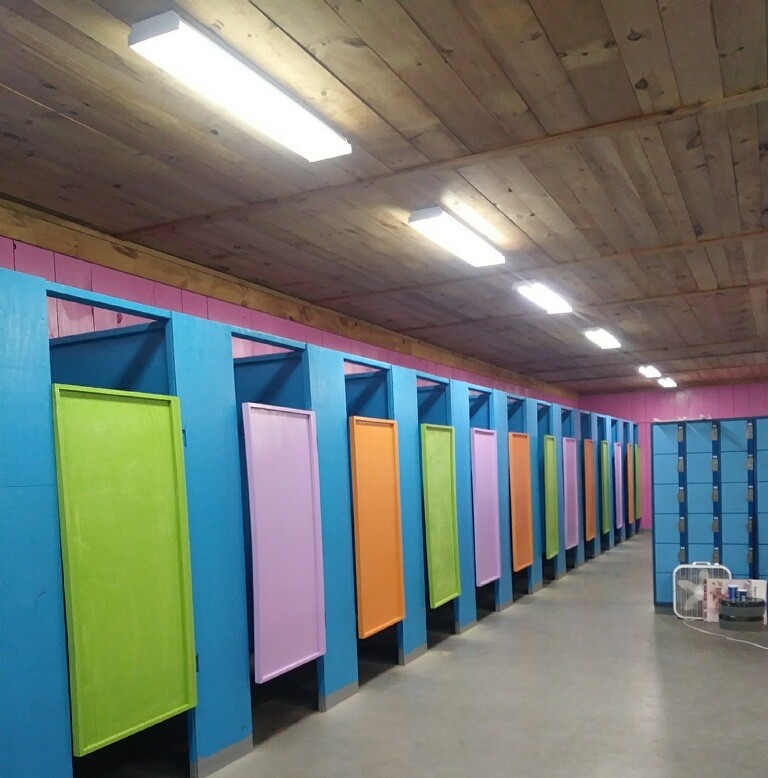 Preparing Equipment: Maintenance
The work continues for the smooth operation of the water rides with our Aquatics Department who watch for maintenance needs throughout the winter months. As you can imagine, keeping structural integrity is vital for this team and with frigid temperatures to contend with, this team has their work cut out for them year-round.
Preparing to Serve Well
Our guests are #1 year-round. Keeping YOU satisfied continues throughout the winter months too. We are considering the games you will play, the prizes that will be won, the food that will be consumed and more! The Director of Retail orders new swag, new prizes, work on improving arcades and gift shops, and more. Then there's the Food Service Department who review menus, track trends in the industry and research new, exciting ideas for the new season. Finally, our Group Sales Team reaches out to secure group ticket accounts and group picnics to help the ease of the day for groups attending together and for businesses to offer discounts to their employees.
Preparing Our Team: Expanding our Expertise
Our management team members spend time attending trade shows, webinars, expo, and research industry-wide trends all with the goal of making Water Safari relevant, convenient, and safe. Here, we gain knowledge of fun new opportunities, like rides! Attending trade shows helps us grow our position in the hospitality industries and the amusement park industry.
Since our hotel and campground are open year-round, staff from Water Safari support their business operations during the winter months. Whether they help take reservations at Water's Edge Inn or paint cabins at Old Forge Camping Resort, our staff is willing to share their skills and build new ones wherever they are needed in the Water Safari Resort family.
Preparing Our Team: Hiring for the New Season
Immediately following the close of the waterpark, our Human Resources department has discussions with team members we would like to return for the following season. These discussions happen throughout the Fall. Then our HR team turns its focus to the International Students Program and recruiting new applicants. Hosting international students provides our team members with a rich cultural experience with the opportunity to interact with diverse staff. Hiring for new applicants is a busy time for the Water Safari office! We opened the invitation for instant interviews beginning in January and will keep that opportunity open through the spring. Interviewing is very busy during breaks such as Presidents' week, a welcomed busyness that reminds us that a new exciting season is coming.
There are more departments and projects not mentioned: finance, admissions, and IT – who all continue to work throughout the winter months to maintain systems and processes in preparation for the summer season. And of course, the above can be said of our year-round staff who manage Calypso's Cove! We could echo the above regarding ride maintenance, hiring, preparation for games and food for the upcoming season.
Often, it's fun to look back but our team really pulls together when they're looking ahead! See you in the 2020 season! We open June 17th, 2020.